To remain competitive, companies need to rethink their approach to workspace and offer "geographic choice", says IWG's Giles Bateman
Having a single workplace and location will become less common for companies as we enter the 2020s, according to Giles Bateman, IWG's Regional Development Director for Continental Europe.
Instead, Bateman says forward-thinking businesses will focus on workplace wellbeing elements such as "employee productivity, attractiveness, cost, co-working, & flexibility" for their future workspace strategies, as well as "geographical choice."
A panelist at the recent 2019 Balkans Property Forum in Belgrade, Bateman shared his thoughts on how values are shifting. Following this speaking opportunity, Bateman says that, when it comes to workplace wellbeing, the right location is just as important as the workspace itself – if not more so.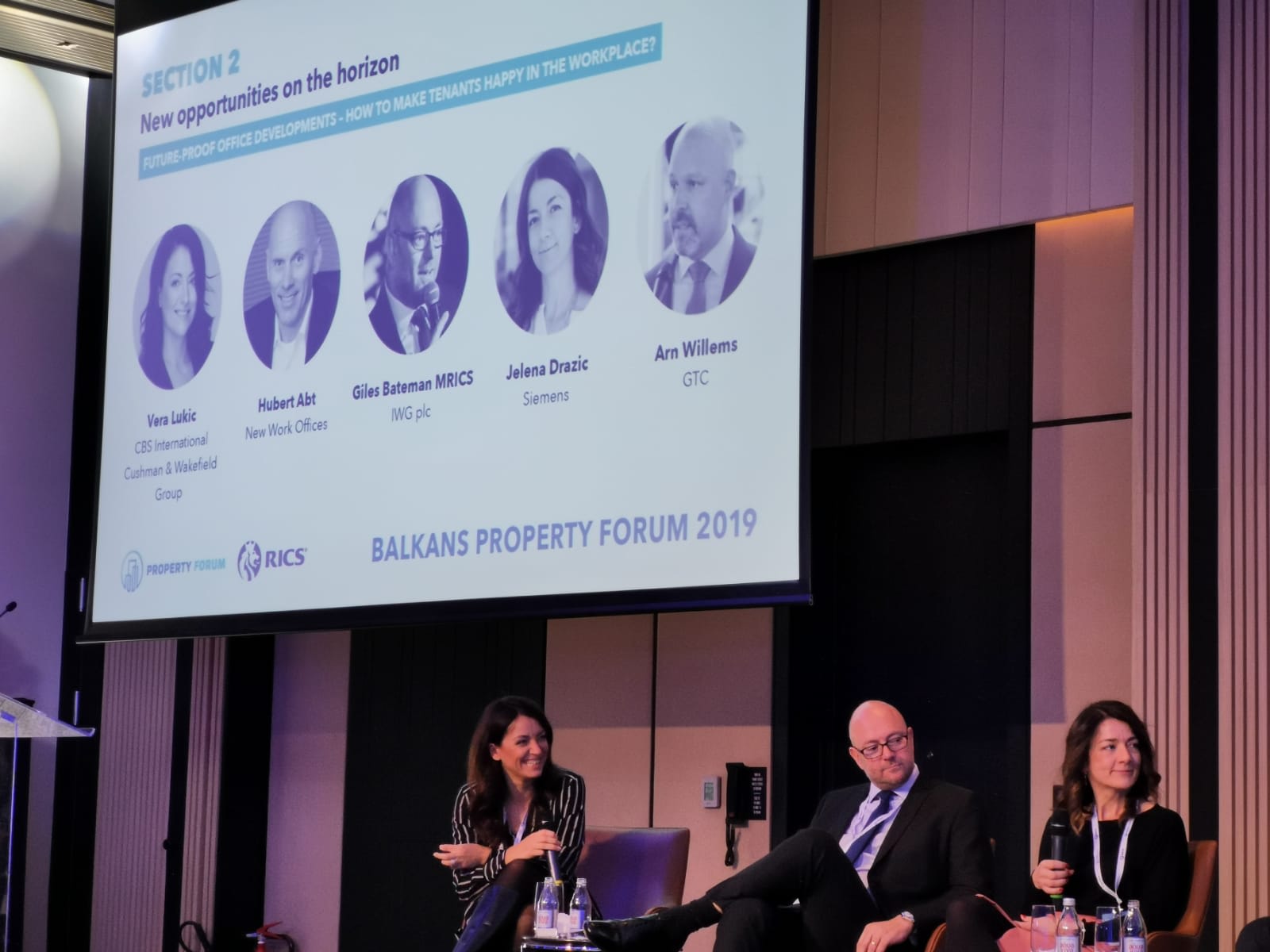 "Workplace wellbeing is not just about having a nice-looking environment with good services," he says. "It's about providing people with the right working conditions in the right location. If you're having to commute up to two hours a day to your central office when it's possible to work closer to home, then the net result is productivity loss and stress – which affects wellbeing. Location is part of wellbeing, it has to be."
Custom solutions for teams
Thanks to technology, the traditional office model has been challenged by more distributed ways of working. Secure remote working is a reality, and as companies explore the benefits, they are becoming open as to where the best place to work might be, for themselves and their people.
"It's also going to mean thinking about what makes the most sense for individual teams," says Bateman. "For some, working in a serviced office near home will be more advantageous and will help the company retain those individuals. Other teams will need to based be closer to clients to help build crucial relationships and save on cost. And clients may crop up in different places: flexspace allows the company to pivot and change their location."
The ability to change location and set up shop quickly is one of the main reasons that companies enter into the flex rental market, but they quickly see that flex is more than stop-gap.
"Actually, all the major corporates of today are asking: 'What is our flex strategy? Some are further down the track than others but everybody is considering a form of flexspace today. Some are doing tests, others are going more full-scale. So yes, flexible workspace is becoming the new normal, but it's not a light-switch transition."
Financial benefits
Aside from the benefits to employee wellbeing and meeting the full potential of employee productivity level, there's a financial case. By making use of coworking space, or leasing from a flexible office space-provider rather than a conventional one, companies can opt for a shorter leases and avoid upfront capex. This allows businesses to adapt as they change in a faster moving economy.
And, with flexspace, companies have the option to upscale or downsize the amount of space they're using in line with their outlook. What's more, by opting for shorter office leases, companies are also able to avoid listing them as liabilities under IFRS 16 – an accounting rule introduced in 2019 – which improves the balance sheet's bottom line.
Attracting talent
Bateman says there will come a time where a flexible working policy will be crucial for companies to remain competitive and attractive – both in terms of retaining talent and managing costs.
"If companies continue to force people to commute large distances to a single office, their employee productivity levels will be lower than their competitors," he says. "Another possibility is employees will leave and go to a company that understands their needs better."
Corporations are recognising the need to create the kind of workspace and working conditions that employees feel they want to be part of.
"The younger generation in particular judge their employer in part by the approach the company has to work," says Bateman. "If the company seems old-fashioned, and there's a misalignment between what the candidate thinks their job is compared to what the company is proposing as a working environment, then that will be massively dissuasive. So companies will need to think about which workplace wellbeing solutions will really make prospective employees believe that their company is the best option."
Find out more about the benefits of flexible office space