Explore how we partner with...
Our global workspace solutions enable businesses everywhere to improve financial performance, minimize risk, increase efficiency and boost productivity. Whether you need practical workspace for local teams, executive space for senior management or flexible access for mobile workers, we make sure you have the right space in the right location at the right time — so everyone in your organization can enjoy a great day at work.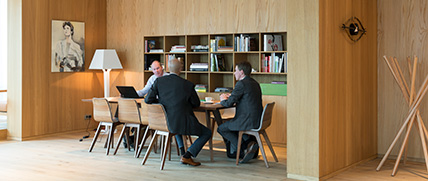 Improve financial performance
No set-up cost. No capital investment. Just pay for the space you need for however long you need it — from an hour to many years. At the same time, you get to remove property liabilities from your balance sheet, minimize the impact of new accounting rules on your business and turn vacant space into income.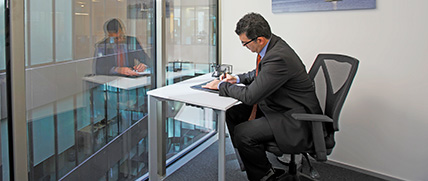 Adapt and react with minimal risk
We give you the flexibility to scale up or down — with minimal upfront planning and no long-term risk. You can use our continually expanding network of workspaces to test new markets, grow your footprint and create a business presence in practically any city in the world. Our flexible model also supports mergers, acquisitions, divestments and organic growth.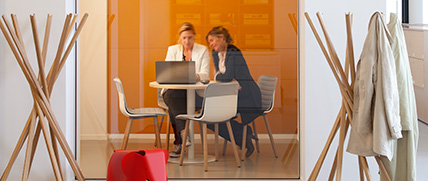 Reduce the burden of property management
Make life simple for yourself. Switch to a single contract with one outsource partner and provide workspace flexibility for your entire business. All our office, co-working and meeting spaces are set up and ready to use — and they come with business-grade internet and telephony, receptionist, kitchen and cleaning included.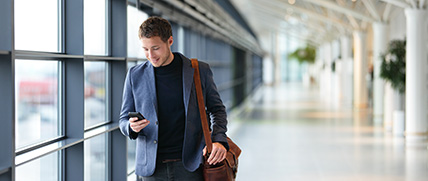 Attract and retain talent and increase productivity
Offer current and future employees a great day at work, with our beautifully designed professional workspaces. With offices available in practically every city in the world, you can base your business wherever the best people want to be.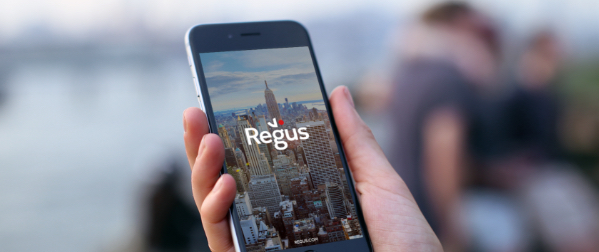 Make workspace choices at the touch of a button
Harness the full benefits of flexible working through our easy-to-use global platform. Use our apps and dashboards to organize your workspace — and make instant choices about area, location, size, type, service and time of use.
With new technology comes new routines. That's why we are looking forward to our collaboration with Spaces. Creating an incubator for creativity and ingenuity today, is necessary to add value tomorrow.
Ernst-Jan Stigter, Microsoft, Netherlands
Co-invest with the market leader
Flexible workspace is the fastest-growing sector of the global workplace market. Make the most of this exciting investment opportunity by partnering with IWG.
We have led the sector for more than 30 years, achieving returns significantly above those of traditional investments. Our massive reach means we can find the best opportunities in the market. And our wide range of workplace formats and geographies allows you to create the tailored risk structure you're most comfortable with.
Why choose iwg?
Expertise – benefit from our 30-year track record of success
Unrivalled network – find the best investment opportunities anywhere in the world
Risk reduction – spread your risk across different customer segments, foreign exchange environments and more
Give your clients the flexibility they need
We help thousands of agents across the world find the right office space for their clients.
IWG has a presence in more cities and countries worldwide than anyone else. We also offer the widest range of locations in your area, under brands including Regus, Spaces, HQ, Signature by Regus and No18.
This means we can provide your clients with a flexible solution every time, whether they're an individual or a global corporation. We can then adapt our solutions as their business needs evolve, allowing them to scale their office space up or down quickly and easily – and even change locations for free.
It's one simple price with everything included and no set-up costs. And to make life as easy as possible for you, we offer simple and flexible agreements along with fast deal cycles and commission payment.
Why choose iwg?
Unrivalled network – with locations in practically every city in the world, we enable your clients to work, meet, expand and relocate wherever they want
Multi-brand offering – meet the workspace needs of any kind of business through our diverse range of world-class brands, including Regus, Spaces, HQ, Signature by Regus and No18
Strong partnership – we provide dedicated agent services to support your success
Capitalise on a once-in-a-generation opportunity
Demand for flexible workspace is growing exponentially. Join IWG as a franchise partner, and you can transform the untapped potential of our market into exceptional cash returns.
We invented the serviced office business model more than 30 years ago, and have been continuously improving it ever since. Today, we are the unrivalled global leader of the workspace market, with a network that is six times larger than our nearest competitor's.
As a franchisee, you can draw on our 30-year track record of success, leveraging our highly effective global sales and marketing platform, and tapping into the millions of customers who use our products and services every day.
To help you drive efficiencies, cost savings and revenue, we also support you with a range of innovative proprietary systems – everything from a global CRM system to an online training school.
Why choose iwg?
Explosive market growth – by 2030, it is predicted that 30% of all commercial real estate will be flexible workspace
Proven business model – take advantage of a highly cost-effective, cash-generative franchise business model with impressive ROI
Multi-brand offering – leverage the strong customer loyalty inspired by world-class workspace brands including Regus, Spaces, HQ and Signature by Regus